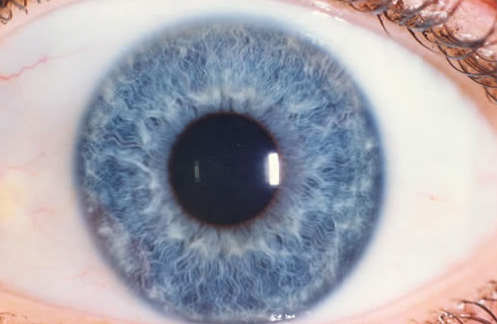 The blue iris is characteristic of the lymphatic constitution. It is associated with conditions caused by excess production of catarrh and the resulting congestion of the lymphatic system that may inhibit immune function and elimination of toxins.
Constitution – Lymphatic
Type – Pure Lymphatic
Iris Colour – Blue
Description – Loose wavy fibres, like combed hair in a blue or grey iris.
Inherent Tendencies – Re-activity of the lymphatic system (adenoid and tonsil irritations; splenitis; swollen lymph nodes; irritated appendix; catarrh with exudations; eczema; acne; flakey, dry skin; dandruff; asthma;coughs; bronchitis; sinusitis; diarrhoea; arthritis; vaginal discharge; eye irritations; fluid retention).
The Biliary Constitutional Type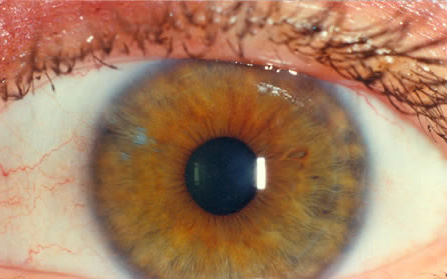 The mixed or biliary constitution, whilst being prone to disturbances exhibited by both the Lymphatic and Haematogenic Types is, in the main, more prone to liver, gall bladder and pancreatic disturbances, flatulence, constipation, diabetes and blood diseases.
Constitution – Biliary
Iris Colour – Basic Blue background with a brown overlay. The iris often appears light brown to greenish brown; sometimes described as the hazel eye. bbn
Description – In many cases the iris appears uniformly brown and is therefore often confused with the Haemetogenic Constitution. Deeper observation however reveals that only the upper, cryptic leaf shows brown pigmentation with the lower leaf showing through as bluey-green. Usually, however, the iris will show clear areas of blue and contrasting brown areas. Contraction rings are often in evidence as is the darkened central area (central heterochromia). Sometimes sectorial heterochromia is evident. Occasionally, lymphatic tophi of various hues are also present.
Inherent Tendencies – Flatulence; constipation; colitis; hypoglycaemia; Diabetes; blood diseases; gall-stones; liver, gall-bladder, bile duct and pancreatic disorders; gastro-intestinal weakness with spasm; Haematogenic and Lymphatic Constitutional strengths and weaknesses.
Iris Constitution according to Joseph Deck
(several sub-classifications of constitutions are not listed)
Lymphatic
Lymphatic is the blue eye due to lack of melanin pigment. This type of constitution have tendency toward excess mucous production with discharges focusing in the respiratory, alimentary, and urogenital tracts. Often found in these types are overactive immune system and allergies, over acidity, and lymphatic congestion with a tendency towards arthritic, rheumatic, ezcematic, and psoriatic conditions.
---
Billiary/Mixed Brown
Seen as a light brown pigment with overlaying visible white/yellowish fibers. Tendency often associated with liver, gallbladder, and associated digestive disturbances often aggravated by dietary disorders.
---
Hematogenic/True Brown
Seen as a brown pigment "carpet" obscuring iris and fibers. Tendency often associated with blood composition, liver, gastrointestinal, and glandular disturbances.
---
Neurogenic Sensitive or Neurolymphatic Constitution